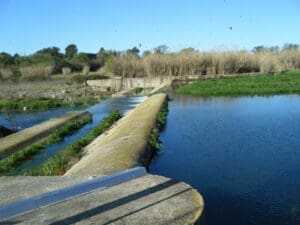 At EMATSA, we mainly receive treated water from Tarragona Water Consortium from the Ebro river. On the other hand, we have a number of alternative and strategic resources – wells, mines, etc.. – which help complete supply necessities.
General Tanks 1 and 2 belong to Sant Pere Muntanyeta and have a capacity of 12,500 m³ each. These supply water to Tarragona centre, Sant Pere and Sant Pau and the Riu Clar industrial estate.
The Bonavista tank supplies the public of Bonavista and La Canonja and has a capacity of 12,500 m³. The tank in La Mora holds 6000 m³ and supplies the developments of Mora and Mora-Rimoni. The fifth tank is in Ferran, which supplies water to the whole village and has a capacity of 50 m³. The tank in Bosques, also known as Llevant, distributes water to the Bosques, Residencial, Solimar and Entrepins area, totalling 16,000 m³ capacity. The last tank is one in the Oliva which can hold up to 4000 m³. This tank receives water from wells and Renau and from La Mina del Arquebisbe and its water is sent directly to the two general tanks in Sant Pere.